Until Harry Potter.
Yay!
Unfortunately I have TWO assignments to complete by 22 July, and I've got a little behind. So it may be a while before I finish HPTHBP. Damn.
A project that is seriously going to impede my life for the next two years. The local council are excited about it though. They've even got a
website
, a
newsletter
and a mole! Their website doesn't work properly with firefox, so I've given you the normal link.
Basically Thames Road is the only part of the South Thames Development Route between Woolwich and the M25 that isn't a dual carraigeway. It causes a bottle neck during rush hour and is an accident blackspot. It should even link up nicely with the new
Thames Gateway Bridge
. (Can't say that too loud)
It will
cost
£21 million and has been funded by Transport for London and the Office of the Deputy Prime Minister.
The council have installed air quality monitoring stations, which look like a green Tardis. You can check the quality
here
and
here
.
The best magic trick will be when they change the two arched railway bridge, to a plain boring single arched one. Looking forward to seeing how they do that.
The project started on 31st May, and all they've managed to do so far is set up their offices. But at least they've got somewhere to make tea now.
Not looking forward to the traffic jams....
Update 01.07.05:
Lots of men with yellow coats with those yellow tripod things. (
levels
?)
Flash flooding is
predicted
today in the South East. So I've read the BBC's guide Flooding
What to Do
. I've come to the conclusion that if there was severe flooding today, the advantage I would have of being in a supermarket surrounded by bottled water, tins of food, rubber gloves and first aid kits would be outweighted by us being right next to the river. I hope they remember to close the flood gate.
I may be back.
Feeling poorly sick at the moment. The hayfever I've only had mildly during the past few years
has decided it doesn't want to be a minor annoyance anymore. It's turned into a major catastrophy. Staying inside doesn't improve things either. This is in addition to the
A

utosomal Dominant

C

ompelling

H

elioopthalmic

O

utburst Syndrome (try saying that after a few) I've always had. I've been using up a few rainforests recently.

Maybe I can sleep through the summer?



Tasting -
Percy Pig
Drinking - Fresh iced coffee
Hearing -
John Legend - Get Lifted
Watching -
American Dad
Reading -
HP OOTP
Discount
vouchers and promotional codes for UK retailers.
Spot the difference in these two
photographs
...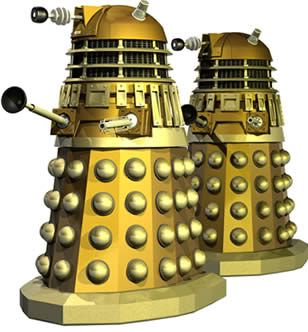 Can't wait until next weeks episode of
Doctor Who
.
Favourite quotes so far:
"Nice to meet you, Rose, run for your life"
Rose: If you're an alien, why do you sound like you're from the north?
Doctor: Lots of planets have a north.
Rose's mother: I'm in my dressing gown.
Doctor: Yes, you are.
Rose's mother: There's a strange man in my room.
Doctor: Yes, there is.
Rose's mother: Anything could happen.
Doctor: [Shaking head] ... No.
Exterminate! EXTERMINATE!
"I want to find a blonde in a union jack. I mean a specific one, I didn't just wake up this morning with a craving."
Jack: A sonic cannon ? a sonic what ?
Doctor: SCREWDRIVER
There is going to be a Christmas special as well. :)
My new
Moblog
.
Send champagne!
After a MAD day at work which resulted in me leaving at 1.30pm, I decided to bite the bullet and do some motorway driving. This plan was nearly hinder by me not really needing to go anywhere. I looked at my trusted A-Z Map of Kent. Best 12 quid I've ever spent. I've driven to East Sussex (briefy) and I've driven to Surrey (briefly) so there was only one place left. Essex! I went to the Lakeside retail park.
What's an Essex's girls favourite wine?

"I W A N N A G O T O L A K E S I D E !!!!!"
*coughs*
Technically I didn't really drive on the M25 because I only went on the tunnel approach and left on the first exit. But it was motorway driving. Really.
Went to the Next Clearance Outlet. Not much there unless you are pregnant, short or rather large. I did manage to find a nice purple flower hairband though, and a brown lacy top. I already own the top in ivory, so I'm getting a collection now.
I then went over the road to the BIG Tesco Extra store. Never been in one before what with me working for the competition and all. Was majorly impressed and spent far more than I should have done. Brought a small 3 cup cafetiere so I can have proper coffee at work now instead of instant. Also brought a pair of Tesco's famous £3 jeans. Let's just say they are well worth the price. ;)
I live in one of the only areas where there is no Tesco supermarket within a 3 mile radius. Morrisons, Asda, Sainsbury's and even a Waitrose are nearby. Considering they are planning on taking over the universe according to a documentary I saw last week, it is very surprising. They are most likely secretly plotting to build a store over a railway station.
Managed to get home safely as well. That accident by the bridge tonight is nothing to do with me....
This summer I shall be supporting two of my favourite bloggers
JonnyB
and
NML
in
Big Blogger 2005
. I shall be sneaking in food parcels for them. Good luck!!!
Had a Delia Smith moment and baked some real biscuits, and a pizza. Had to do something to distract me from the Major Roadworks going on outside my house. Lots of vibrations and beep beep beeping. Can't concentrate on any studying. Don't really want to go anywhere because the traffic is piled up due to temporary traffic lights. The vibrations are now playing havoc with my poor computer. I may be back...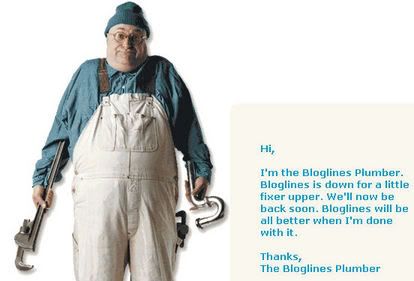 At least I know it's not me. Hope you fix Bloglines soon, I need my fix!
*makes a virtual cup of tea and while I'm doing imaginary stuff bakes some biscuits as well*
Just returned from an excellent field trip with my s260 OU tutor group in
Dryhill
and the Moorhouse sandpits.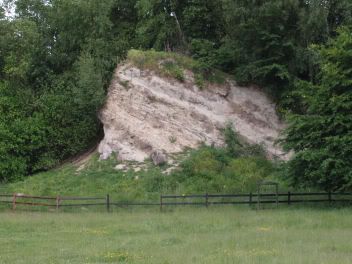 At Dryhill we had a look at the folding, and
learnt
how to take dip and strike measurements using rather old, but still very much functioning
clinometers
. Their leather straps had holes in them to attach to gentleman's waistcoats! The rock formations at Dryhill form part of the Hythe Beds and are composed of repetative layers of hard limestone and soft sandstone.
Lunch was taken at the fabulous
Grasshopper Inn
, where I had a Big Fat Carvery.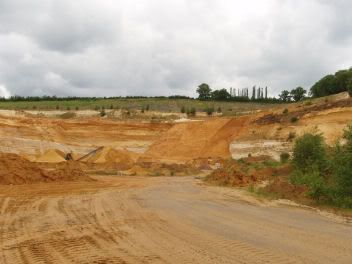 After lunch, I burned all the calories off walking around the Moorhouse Sandpits. They provide 90% of the sand in the region. The orangy stuff is iron which has stained the sand very prettily. These sands form part of the Folkestone Beds.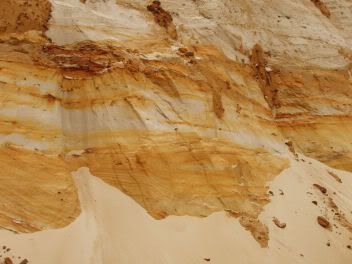 We had a fossil hunt in the marine clay and I found loads of fossils, just lying on the floor. Wwe came to the conclusion that the recent heavy rain must have washed some of the surface mud away to expose them.
Had another good drive. Getting the hang of it. The journey to Sevenoaks was the better with the quiet sunday morningroads.
I shall try and post the pictures of my fossils once I have cleaned them up a bit.
I've been a bad blogger and not posted for a while. But I have been far to busy. Honestly. But
DG
's post today has got me thinking and making me feel a little bit guilty. I shouldn't wait for something to come up to blog about. I should go looking.
I've been off work all this week, and in between studying and reading
Harry Potter 5
again, in readiness for
Harry Potter 6
, I've been driving. No readers, don't fall off your seats, I haven't yet found the Perfect Car. But I've managed to persuade someone to lend me their spare one for the week. So I've has lots of fun driving around suburbia causing mayhem in Bluewater carpark and the like.
At the weekend I have a geology field trip at
Dryhill
near Sevenoaks, in deepest darkest Kent. So yesterday I thought I'd be brave and have a practice run down there.
After spending two hours memorising the map book, and
AA
website directions, I set off to the garage. Where I spent an hour filling up with petrol, water, air, emergency rations, and rechecking the map book.
I drove on the A225, which is a really long road that changes speed limit quite frequently. 30, 40, 50 and 60mph, depending on whether you are driving through a village, or on the open country road. I had a long queue behind me for most of the time because I wouldn't go over the speed limit at the lower speeds, and barely went about 45 at the higher speeds. Never mind.
Got to the Bat & Ball Junction (how cool a
name
is that?) and managed to find my way to the A25. Another road that changes speed limit a lot. I see a sign that says Dryhill Picnic site, so what do I do? Drive past the entrance. There's nowhere for me to turn around because all the cars coming the other way are driving at 50 mph. So I keep on driving. Eventually I drive past a sign that says "Welcome to Surrey". Before I start panicking that I'm going to end up in Wales before I can turn around, I see a pub! The same one on the itinary for the field trip as somewhere to have lunch. I'm Saved!!
I go into the car park of the pub, and turn around. Was very tempted by the idea of a pub lunch but I'm trying to save money. Drive back to the Bat & Ball and get back on the A225. I'm driving, but I don't recognise anything. I see a sign that says "Welcome to Sevenoaks". (damn signs of doom) I've driven the wrong way!!! I can't turn around again because I'm stuck in the mother of all traffic jams. So I'm taking the seanic route home the wrong way through Sevenoaks town centre. It's an strange town that reminds me of a cross between Blackheath, with the Cafe Nero's and quaint antiques shops, and Dartford, with Iceland and Oxfam shops.
Eventually after leaving Sevenoaks and driving past Knole Park, I find another pub with a car park I can turn around in and head back home. Only I get stuck behind a learner driver who is even slower than me! Damn karma.
At least I won't get lost on Sunday, and I just have the evil A2 to conquer now! That will be another long blog I'm sure.