Today is one of those days where you wake up cold and have to put on slippers and a cardigan before you get out of bed. You look out of the window at the dark gloomy morning, and realise that summer is over. The days are getting shorter, and nights are drawing in fast. You try to remember which suitcase you put all of your heavy winter jumpers and coats in. But you cheer up when you realise that Christmas will be here soon.
Except its only bloody July.
Harry's heart missed a beat. "That's my nickname," he said.
"Your nickname," repeated Snape.
"Yeah...that's what my friends call me. "
"I understand what a nickname is," said Snape.

I want to post more of my favourite quotes but I don't want to spoil the book for anyone who hasn't finished reading it yet....


Finished Harry Potter last Sunday, and I am now listening to the audio book a chapter at a time to help it all sink it.
It's a great book. Very entertaining. I was rather peeved at the whole soap opera element thought. Sounds more like
Fan Fiction
than the usual gold she writes. At least she hasn't started wrting slash. Harry Potter porn isn't pretty.
Been studying hard. One assignment done. Another one due in next week.
I am still selling lots of T Shirts. Might need an accountant soon. :$
Tomorrow is here. All the excitement and sticking me head out the window this morning has aggrevated my hayfever, and my eyes are all blurry!
I listened to JKR reading the first chapter last night, so I sort of know what to expect.
I'm switching off the computer. I may be some time.
We have the books in stock at work. I had the honour of carrying the box onto my department. The box was open because they had to check the numbers inside. But the books were in a plastic seal so I couldn't take a sneaky peak.
Well I could. But I do have some integrity occasionally.
Is tomorrow here yet?
Bloomsbury have released a book summary of HBP
here
for those of you who want to be only slightly spoiled.
I'm so excited.
Spoilers in the comments...
Again it seems I am learning lots about granite with my current assignment.
Why
Granite
is really like an ice cream.
Why
sedimentary
rocks are like sandwiches.
Geology
food
recipes. Yummy!
Geology
T Shirts.
I'm working the late shift on Saturday, so I shall be eagerly awaiting the postman in the morning. I still have lots of studying to do, so I shall have to squeeze in a few reads here and there. At least I can savour the book and make it last as long as possible.
I meant to post this last week but after everything that happened I forgot.
This
is a link to the video page on the London 2012 Olympics website. Take a look at the "Sport at Heart" video. It shows a woman running through London past famous sites and famous people. Including David Beckham struggling with a crossword, and Ken riding a bendy bus. Lots of little funny moments. I also like the subtle way they have managed to get the sponsors into the video. Worth a look. Made me cry...
Drove to an even deeper and darker part of Kent yesterday for a friends wedding at
Cooling Castle Barn
. Loads of fun for me driving on the A2 and tiny country roads. The castle and barn area are phenomenal. An oasis hidden in the middle of nowhere.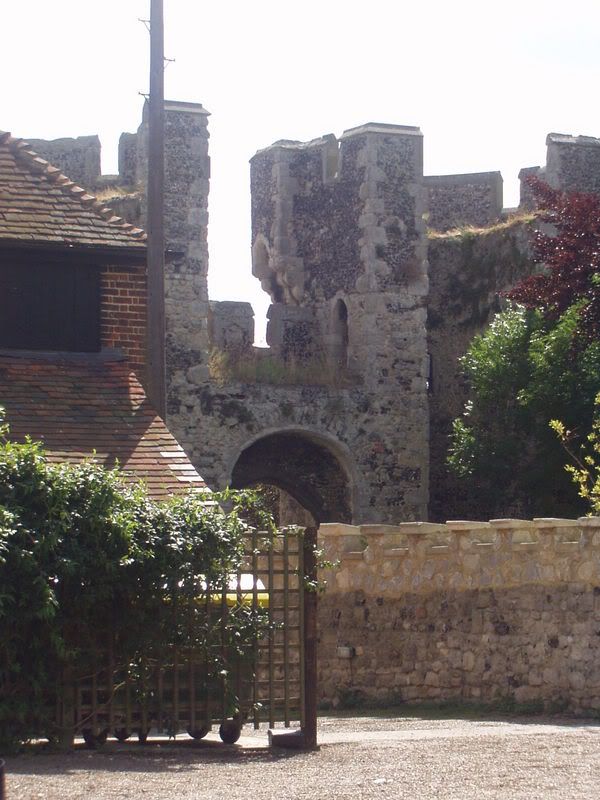 The bride and bridesmaids looked fabulous. It was lovely to spend a whole day talking to my friends. I got to spend some time with my friends (nearly) two year old daughter. A little lady who is growing up fast. She spend the whole day running around in the grounds of the castle having fun exploring, as young children do.

The picture above is of the castle taken from the barn area.

You come to place your bags of hate
On bus and train, you made us late
Yet we'll be back again tomorrow
We'll carry on despite our sorrow
Your bags of hate caused some to die
Yet we stride out strong with heads held high
You'll never win, we will not bow
You can't defeat us, you don't know how
This London which we love with pride
Is a town where scum like you can't hide
Don't worry we will hunt you down
Then Lock you up in name of Crown
We're London and we're many races
Just look you'll see our stoic faces
We all condemn your heinous act
You will not win and that's a fact
We'll mourn our dead and shed a tear
But we will not bow to acts of fear
You're out there somewhere all alone
There's nowhere now you can call home
Olympics ours we've won the race
Your timing then a real disgrace
Our strength you'll find remains unbowed
We're London and we're very proud.

Bexley
council have managed to get the Queen on some sort of a multisave deal. On July 26th HRH QEII will be opening the newly refurbished police station, the new leisure centre, and the newly restored
Danson
House in Bexleyheath.
I hope she gets a nice cup of tea at the end of it all.